Meet Our K-9 Officers
APD K-9 Dutch


Born: 03/09/2009
Handler: Corporal Kris Bouchard
Color: Black & tan
Favorite toy: Anything he can retrieve
Favorite games: Hide & Seek, Fetch
K-9 Officer Dutch was born in Canada on March 9, 2009. He is a black and tan pure-bred German Shepherd.
Dutch was purchased after a donated dog, Gunner, failed to have the proper traits needed to be a police K-9. His handler, Corporal Kristopher Bouchard was 2 weeks into a 12 week Patrol School when it became apparent that Gunner would not make the cut. Dutch was purchased as a replacement using drug forfeiture money in March of 2010. Gunner found a home in the Skowhegan area with a civilian. Even though there was only 9 weeks left when Dutch began the training, he passed with flying colors. In fact, during a rugged terrain tracking exercise at Frye Mountain in Montville, Dutch was the only K-9 to find the person he was looking for after a track that was over a mile long, up the mountain. During patrol training, K-9s are trained in obedience, tracking, evidence searches, building searches, aggression and officer protection.
In September of 2010, Corporal Bouchard and Dutch attended Narcotics Detection School which was an 8 week school at the Maine Criminal Justice Academy. During this school, Dutch was trained to detect marijuana, hash, cocaine, crack cocaine, methamphetamine and heroin. The training took place in various locations that included searches in buildings, on boats, in vehicles and at airports. Corporal Bouchard and Dutch successfully completed this training and graduated in November of 2010.
On the streets, this K-9 team is utilized by the Auburn PD as well as surrounding departments. They are used on a regular basis for tracking suspects and searching for drugs in vehicles, residences, correctional facilities and schools. The team has also conducted demonstrations for many community organizations.
Dutch is a social dog who loves attention and enjoys work and play equally. He resides with Corporal Bouchard and his family in Auburn.
APD K-9 Rocky


Handler: Officer Donald Cousins
Color: Black & tan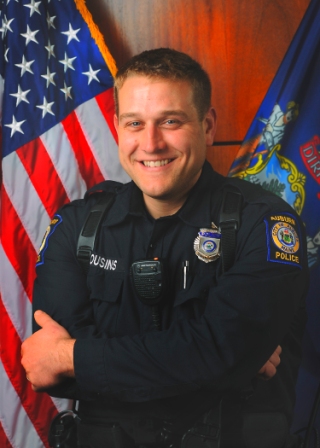 The Auburn Police Department welcomed our newest K9 officer in 2013.
K9 Officer "Rocky" graduated from the Maine Criminal Justice Academy K9 School, an intensive 14-week K9 training program with his previous handler, Officer Tyler Ham. In 2015, Rocky was teamed up with Officer Donald Cousins.
"Rocky," a two year old German shepherd, is named in honor of Auburn Police Officer Rodney "Rocky" Bonney, who was killed in the line of duty on April 6, 1981. Officer Bonney's widow, Cherrie, got to meet her husband's namesake for the first time when Rocky was sworn-in before Auburn's City Council, and she very proudly 'pinned' his badge during the ceremony.
Rocky is trained in patrol and drug detection. We are proud to have this impressive K9 on our team. He is dedicated and very intelligent. With his namesake, he has some very big shoes to fill. Rocky lives with Officer Cousins and his family.
APD K-9 Inka - RETIRED
The last of the APD's two original K9 officers retired from duty in 2013.
Inka was born in New York on May 9, 2005. She is a pure-bred female German Shepherd that was trained in the dog training art of Schuetzen. Inka began her tour of duty on March 20, 2007 at the Maine Criminal Justice Academy (MCJA) K-9 Patrol School, with her handler, Corporal Scott Corey.
Dogs come in an huge variety of shapes and sizes, and not every breed of dog is suited for police work. The key attributes of a successful police dog are intelligence, aggression, strength, and sense of smell. Inka possessed all of these, and so much more. She served our agency and this city well. She worked hard - she loved her job - and she served with heart and with courage.
Inka's heart showed through in everything she did. She would allow the smallest child to pet her and kiss her; but she knew when it was time to work, tracking the bad guys with tenacity and ferocity. She was always right beside her handler, ready to face anything - clearing buildings, searching vehicles, wading through mud, water, woods...anything that was asked of her.
Inka is living out her well-deserved retirement with APD Patrol Officer Dennis Matthews and his family. She is a very happy family pet now, getting lots of love and attention, and romping with 'her kids' and her canine siblings.
We will always remember and honor Inka's service to the Auburn Police Department.
Enjoy your retirement, Inka. Good girl.

APD K-9 Beny - RETIRED
End of Watch: October 27, 2011
One the APD's two original K9 officers passed away in 2011.
Beny, a black German shepherd, proudly served the Auburn Police Department alongside his handler, Corporal Kris Bouchard, from 2007 to 2009. He was a trailblazer, serving as one of the department's very first K9 officers. Originally from Slovakia, Beny was trained for patrol/tracking and for drug seizure. He was happily living out his well-earned retirement in Norway, Maine chasing squirrels and romping with his dog and kid friends. Rest well, Beny. We will miss you. Thank you for your service.