Citizen Patrol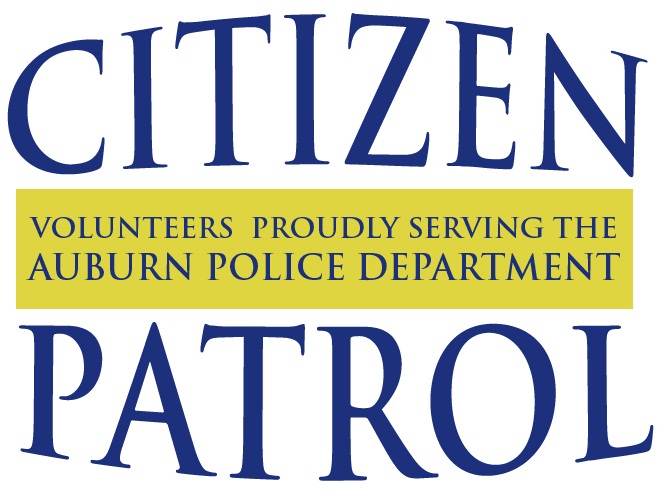 Citizen Patrol is one of the unique divisions of the Auburn Police Department Volunteers in Police Service (VIPS) program. The Citizen Patrol team serves the Auburn Police Department in many different ways. Patrol duties include but are not limited to the following:
Home Security Checks
Home security checks are done after receiving a written request from a resident of Auburn. A Security Check Report is filed with the clerk, and then given to the Citizen Patrol for daily checks. These Checks are performed to ensure residents of the City of Auburn security while away from their home.
Parking Enforcement
In an effort to see disabled parking spaces utilized in the correct way, Citizen Patrol members patrol area retail parking lots looking for violations. When a violation is found, vehicles are appropriately ticketed.
Court Subpoena Service
To assist our Patrol Division, the Citizen Patrol team is trained to serve subpoenas, documents ordering someone to court as a witness or person of interest. CP members simply call the individual, having them report to the Auburn Police Department.The individual is then 'served' right at the station.
Project Good Neighbor
In partnership with Auburn's Code Enforcement team, CP members, during patrol, keep an eye out for city code violations (excessive trash, cars, etc.). When a violation is observed, members photograph and document the case, request voluntary compliance, then forward the case to Code Enforcement.
And much more!
How to become a Citizen Patrol member...
Become an active VIPS member
Applicants must be at least 18 years of age
A comprehensive background investigation will be performed
Complete 10 hour Citizen Patrol Training, covering the following:
Patrol Attire
Conduct in performing
Radio Communications
Patrol Shifts
Vehicle Operations
Patrol Duties
Reverse Ride-along
Anything else deemed necessary by the Training Officer