Online Crime Mapping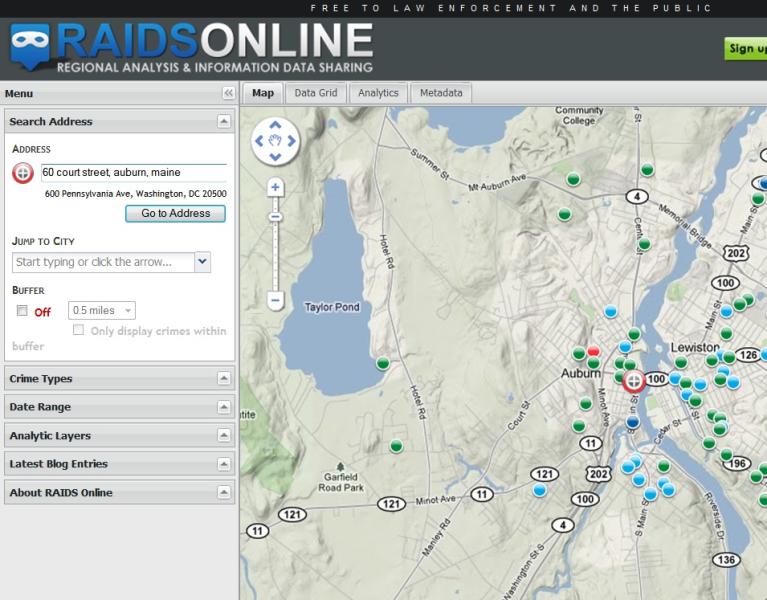 The City of Auburn offers an online crime map for its residents. Auburn partnered with Bair Software to provide the service and make it easier for their residents to keep track of crime in their area. BAIR offers the service at absolutely no cost to the department or the public as a way to give back to the community.
RAIDS Online syncs with the Auburn's crime records system to automatically upload crime information and keep it updated on the map. Auburn residents can view crimes near their home, school, work or other area of interest. Citizens who use RAIDS Online to become aware of crime trends can make more informed decisions regarding where they live, shop, play, send their kids to school and other important choices regarding their personal safety.
In addition to a map of crime, RAIDS Online allows citizens to sign up for daily or weekly email reports of recent crime activity. This allows the public to stay informed about crime simply by logging into their email system. The reports list each crime within a certain distance from the user's address for the past day or week. A sign-up form on the RAIDS Online website makes it easy for residents to sign up for reports.
Auburn is also providing an anonymous tips service through the website. Citizens who click on crime dot on the map can send a tip directly to the department about that incident. These tips improve two-way communication between the department and the public and they can strengthen a department's investigation about a crime by ensuring they have the most information available about an incident.
Realizing that crime isn't constrained by city borders, Auburn and Lewiston have started sharing crime data in the same system, which allows residents on the border of the two cities to stay informed about crime even though it may cross jurisdictional lines. The system also helps officers and analysts in both departments stay up-to-date about crime in their area of interest.
DISCLAIMER Regarding the Auburn Police Department's RAIDS Online Data

The Auburn Police Department endeavors to ensure the accuracy of the data made available through RAIDS Online and to comply fully with state and federal laws pertaining to the rights of both victims and suspects.
The Auburn Police Department will not release any personally identifiable information of those involved in crimes that are mapped in the Raids Online service through RAIDS Online. Additionally, it will be the policy of the Auburn Police Department to randomly offset the mapped locations of all sex-based offenses by as much as 500 feet to further protect the identities of victims of these offenses.
User should also realize that these data may reflect:
Information that may include technical or human error or both
Information not yet verified by additional investigation of the crime or incident
Preliminary crime classifications and symbols that might be changed later, based upon further investigation
Mapped points that are estimates of the actual crime or incident location, based upon the mapping limitations of our data and records systems
Incidents at the same address may be "stacked" upon each other, visually obscuring the total number of incidents occurring at that location
The Auburn Police Department shall have no liability for data made available on this website, specifically including no liability for any:
Omissions of data; or errors in data as presented to the public; and
Use, misuse of, or any result obtained from the use or misuse of, data
The use of data indicates the site user's unconditional acceptance of all risks associated with the use of data as provided through the RAIDS Online Crime Mapping Service.