Festival Plaza is a downtown plaza for outdoor performances as well as a gathering place for residents and visitors. Festival Plaza has seating areas, water features, and passive recreation space.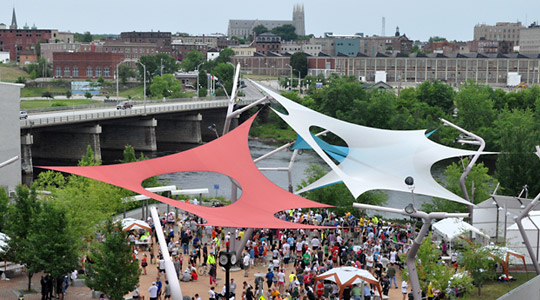 HISTORY
Festival Plaza was created as part of the 1997 Auburn Downtown Action Plan for Tomorrow (ADAPT) visioning and revitalization initiative. As designed by Boston's ICON Architecture, Festival Plaza establishes a vibrant and artistic civic focal point along the Androscoggin River, conveying a 21 Century interpretation of the "New England Commons."
Dedicated on September 21, 2002, Festival Plaza is noteworthy as both a fine urban public gathering place and a world-class piece of public art & architecture. Its most dominant design features are the seven masts which serve to secure the visually-striking canopies.
Within the Plaza and under the great canopies are a number of engaging heritage-based design elements, including two water features. The Great Water Fall, an artistic interpretation of the Great Androscoggin Falls, pours a sheet of water upon a grouping of massive granite stones. This theme is continued along the surface of the Plaza which presents an artistic depiction of the Androscoggin River channel below the Great Falls. Notice the etched waves in the gray floor surface, as well as the form of four islands in brown/red color below the "Falls."
The second notable water feature, the River Cascade, begins at the Plaza level and flows down a series of seven steps towards the Androscoggin River. Here you will discover a series of nine bronze shoes placed upon the steps in the Cascade channel. Each of the bronze shoes is designed with a water jet that creates a dynamic movement of water. The bronze shoes represent Auburn's historical distinction as one of America's leading centers of shoe-manufacturing.
The City of Auburn's Seal is set into the surface at the center of the Plaza, and is shown projecting rays of sun from its circular form.
The Plaza is surrounded by graceful silver birch trees and nicely framed by the historic buildings that have graced Main Street since the mid-19 century. The entire Festival Plaza composition opens to the memorable and romantic vista of the Androscoggin River.
In September 2016 a plaque describing the process and history behind the plaza was mounted.