Mayor JASON j. Levesque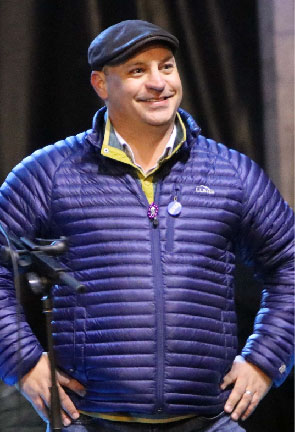 Mayor Jason J. Levesque
About Mayor Levesque
First elected in 2017, then re-elected in 2019 and 2021, Mayor Jason J. Levesque is a fifth generation Auburn resident and a 1992 graduate of Edward Little High School. After attending college at West Virginia Wesleyan and concluding a eight year tour in the US Army, Mayor Levesque realized that there was no place he would rather start a company and raise a family than in Auburn, Maine.
Since its founding in 2003, his business - Argo Contact Centers - has become one of the largest employers in the region and has made the INC. list of fasting-growing companies in America for three consecutive years. In 2015, Argo was recognized as the fastest-growing company in the State of Maine, and was the recipient of the L-A Metro Chamber of Commerce 'Business of the year' award.
More important than his company's success, is the Mayor's family. Jason and his wife Tracey take great pride in raising the sixth generation of Levesques in Auburn. Year-round, the Levesque family can be found enjoying the great hiking, skiing, and boating that Auburn has to offer.
As Auburn's Mayor, Jason realizes not only what a great city Auburn is, but also its great potential. Through the power and knowledge of its citizens and businesses, and its proximity to Southern Maine, the rocky coast and the western Mountains, Auburn is poised for even greater growth in the years to come.
2023 STATE OF THE CITY ADDRESS: