AUBURN ISSUES "PROCLAMATION OF EMERGENCY"
Auburn Announces Closure of Some Parks & Playgrounds
View media release here.
MESSAGES FROM MAYOR LEVESQUE
"We are all in this together" 3/24/2020
"When in Doubt, Don't Go Out" 3/31/2020
Coronavirus Response Resource Hub
This informative site offers health news & resources, food resources, City programs offering support to residents & businesses, as well as the latest COVID-19 maps & statistics. This hub will be updated frequently, so be sure to visit often.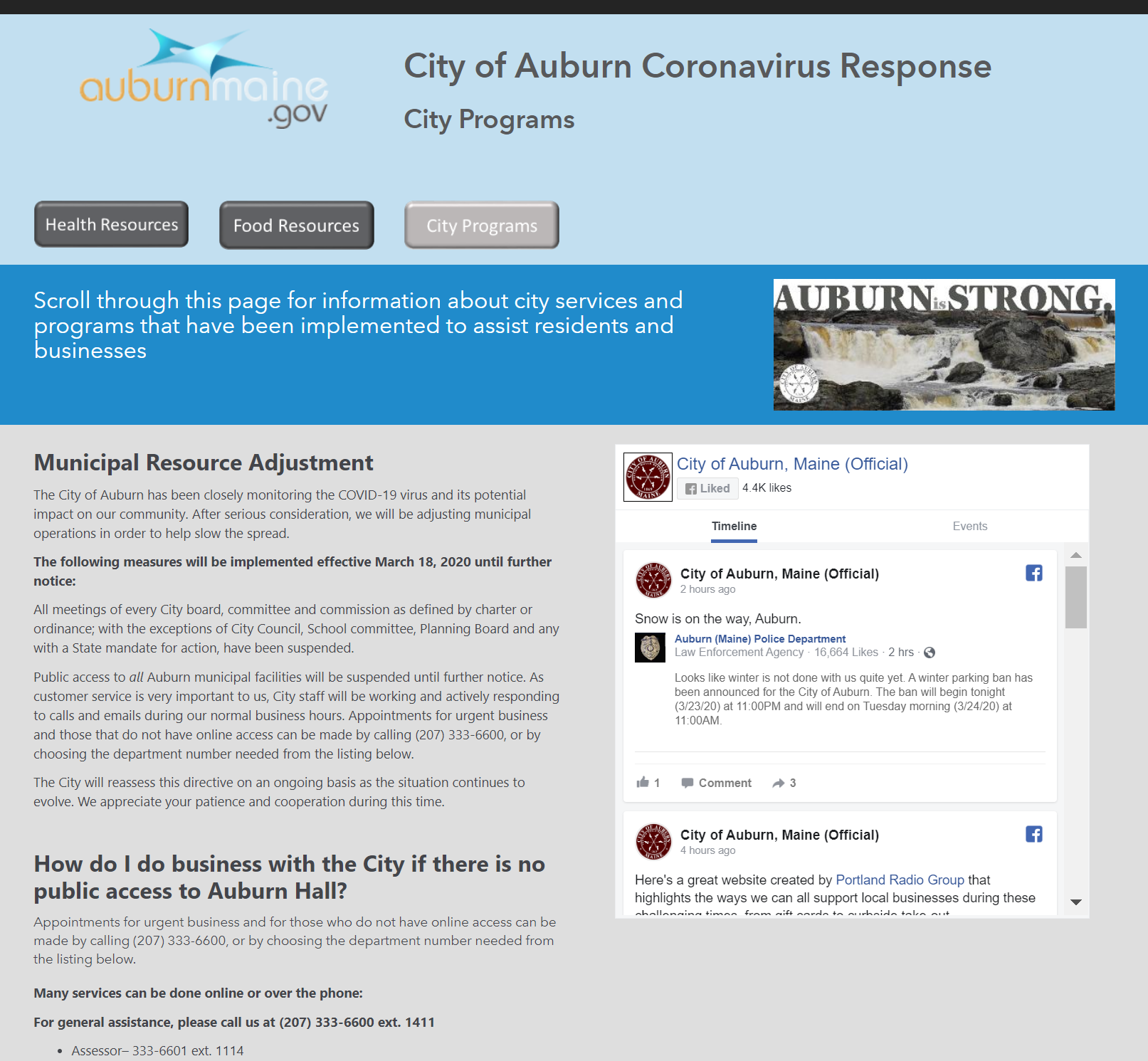 WE ARE ALL IN THIS TOGETHER: A message from Auburn Mayor Jason Levesque
COVID-19 TESTING SITE OPENED
Our community partners at St. Mary's Regional Medical Center & Central Maine Medical Center - CMMC have established a remote testing site for the COVID-19 virus outside the Lewiston Armory at 65 Central Street. THIS SITE IS NOT OPEN TO THE PUBLIC; testing is available only to patients who have been referred by a provider. These services could possibly expand in the future based on community need, but for now, only those with a provider's order will be seen.
COVID-19 testing at the armory location consists of a simple nasal swab. Dubbed "stop and swab," the site has been set up as a drive-through station: individuals coming in for testing will not need to exit their vehicles. No other evaluation or treatment will be done at the site.
The provider-ordered COVID-19 testing is conducted based on criteria provided by the U.S. Centers for Disease Control and Protection, which include severe respiratory symptoms including cough, shortness of breath and fever; close contact with confirmed cases or travel overseas.
IMPORTANT Municipal Operational Adjustments
After serious consideration, we will be adjusting municipal operations in order to help slow the spread.
The following measures will be implemented effective March 18, 2020 until further notice:
All meetings of every City board, committee and commission as defined by charter or ordinance; with the exceptions of City Council, School committee, Planning Board and any with a State mandate for action, have been suspended.
Public access to all Auburn municipal facilities will be suspended until further notice. As customer service is very important to us, City staff will be working and actively responding to calls and emails during our normal business hours. Appointments for urgent business and those that do not have online access can be made by calling (207) 333-6600, or by choosing the department number needed from the listing below.
The City will reassess this directive on an ongoing basis as the situation continues to evolve. We appreciate your patience and cooperation during this time.
Many services can be done online or over the phone:
For general assistance, please call us at (207) 333-6600 ext. 1411
Assessor–333-6601 ext. 1114
City Clerk–333-6600
Code Enforcement–333-6601 ext. 1133
Fire/EMS Department–333-6633 (Non-Emergency)
Police Department–333-6650 (Non-Emergency)
Public Works-333-6670
Recreation Department–333-6611
Tax Department–333-6601 ext. 1178

The City of Auburn will be extending the tax due date to April 1 with no penalty.
For more information, please call (207) 333-6600
Coronavirus (COVID-19)
Coronavirus disease 2019 (COVID-19) is a respiratory illness that can spread from person to person or possibly by contact with a surface or object that has the virus on it, and then touching one's mouth, nose, or possibly eyes. The virus that causes COVID-19 is a novel (never-before seen) coronavirus that was first identified during an investigation into an outbreak in Wuhan, China. The virus has since spread to several countries including the United States, with a number of cases reported in multiple states.
City of Auburn officials have been working with organizational partners to monitor and take the necessary steps to prepare for COVID-19. A variety of key City officials are preparing for the possible spread of COVID-19 into our community. Preparing for such a scenario serves to strengthen any needed response to a localized outbreak of the virus if it occurs in the future.
Continuity of City operations is a priority, so that the public can continue to be served in the time of a crisis, whether it's a response from our firefighters/paramedics, police, trash collection services, or providing critical information to residents and visitors, etc. The City Manager has approved the activation of our Continuity of Operations Plan (COOP) to help prevent the spread of COVID-19. We will continue to work closely with our county, state, and federal partners on this matter to be prepared as a precaution.
In order to help slow the possible spread of COVID-19, in accordance with State of Maine guidelines, the City of Auburn has decided to cancel all events scheduled at City facilities for the next 30 days. Recreation programming, space rental and activities have also been suspended until further notice. Please pay attention to this website for further information or sign up for e-alerts (above). The City will reassess this directive on an ongoing basis as the situation continues to evolve.
Residents are encouraged to take four main steps:
The first is to be informed. The latest information can be found from the Maine CDC and U.S. CDC. The second step is to reduce your risk of getting/spreading the COVID-19 virus. This includes taking precautionary measures like a person would for a cold and the flu. Examples include staying home when you are sick, covering your cough and sneeze (into your arm), and practicing good hand washing with soap and hot water for at least 20 seconds. Third, do not attend gatherings, events, or spend time in public spaces with more than 10 people. Finally, if you have questions or concerns, please dial 2-1-1 or go to their webpage: http://www.211.org/services/covid19
COVID-19 (Coronavirus) Resources
http://www.211.org/services/covid19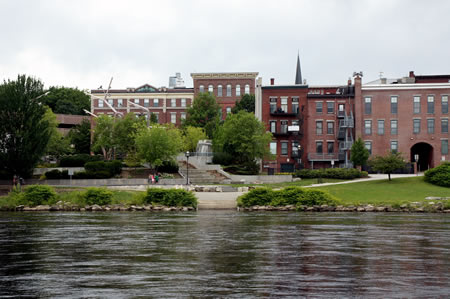 SMALL CITY. BIG IDEAS.
Whether your plans are to live, work or play in Auburn, we have something for everyone! Our City offers an abundance of recreational activities, numerous parks and trails, as well as various cultural opportunities to experience. Auburn boasts a broad assortment of restaurants, shopping opportunities, public and private school system options, as well as stable neighborhoods and proud citizens who truly care about their community.
Our City staff is comprised of dedicated individuals who are knowledgeable and ready to assist with your needs. We are committed to improving the quality of life for our citizens, encourage development and support partnerships between business, industry, government and community.
On behalf of our citizens, staff and local business partners, we welcome you to the City of Auburn. We encourage you to visit our friendly neighborhoods and participate in the amazing programs and activities that our growing community has to offer!
CITY SPOTLIGHT:
| | |
| --- | --- |
| | |
| | |
| | |
| | Join us for our second annual celebration of art & community: |
| | |
| | Honor the Veterans in your life with a Hometown Heroes banner in 2020! |
| | |
| | |
| | |