Ward 3 Councilor Mary J. K. LaFontaine
About
Mary LaFontaine, a 16 year resident of Auburn, has worked for private, public and non-profit sector employers in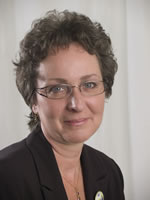 Maine since 1987 when she moved to Maine from Wisconsin.
Mary holds a Bachelor of Arts from the University of Wisconsin-Stevens Point and a Masters in Adult Education from the University of Southern Maine.
Mary's 24 year career includes most recently working with Androscoggin County businesses to assist them in their recruitment efforts and with job seekers to help them find suitable employment and/or training to build their work skills in her position as Lewiston CareerCenter Manager.
In addition to her current position she is also teaches at USM-LAC and Gorham and serves on several boards including the Chamber of Commerce, College for ME-Androscoggin, the United Somali Women of Maine, and the Central Western Workforce Investment Board. She as has also served on the Board of Directors for Literacy Volunteers, a United Way Impact Council, and Healthy Androscoggin in recent years. Councilor LaFontaine is also a member of the Library Board.
Mary is married to Richard and has three adult step children and 6 grandchildren all of whom reside in Androscoggin County.
She enjoys outdoor activities especially gardening, family gatherings, and collecting antiques & family heirlooms.
Contact
Councilor Mary J. K. LaFontaine
207.513.2364
mlafontaine@auburnmaine.gov