Auburn's Joint Land Use Study
NEW SURVEY!! Maine Army National Guard (MEARNG) is interested in exploring community attitudes toward its presence and activities on Mount Apatite Road. This short 24-question survey is designed to help the MEARNG, JLUS Policy Committee and Study Team gain some insights into the need for community education and outreach associated with MEARNG activities.
The Joint Land Use Study between Mount Apatite Recreation Area and the Maine Army National Guard Training Facility located off Garfield Road in Auburn was funded by the Office of Economic Adjustment (OEA) in a grant to the City of Auburn. The primary goals of this study are to ensure the continued operational utility of the military installation and to support the appropriate public uses of the Mount Apatite Recreation area now and in the future. The JLUS is expected to result in recommendations to the Auburn City Council to amend the comprehensive plan and land use ordinance assuring mutual compatibility among the Training Site, the Mt. Apatite Recreation Area and surrounding areas of the City.
The proposed study area, which may be refined, is the area between Hatch Road, Perkins Ridge Road, Young's Corner Road, Hotel Road and Minot Avenue (Route 121).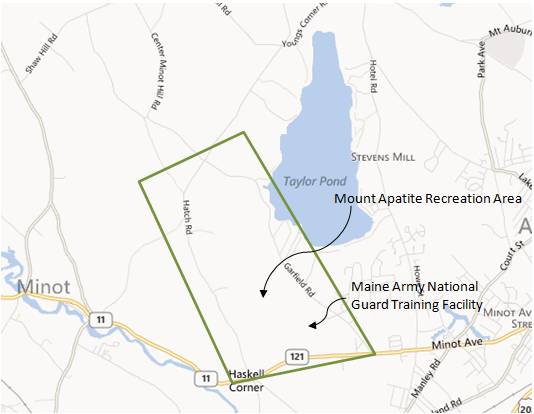 The City has elected to manage this study process by creating a Mayor-appointed Policy Committee. The Policy Committee has been appointed and will oversee and guide the work of the consultant hired to prepare the necessary information to meet the goals of the study. Click here for Policy Committee meeting dates and members. Please help the Policy Committee members understand who uses the Mount Apatite Park Areas and for what purpose(s) as well as how park users travel to and enter the area by responding to a short 10-question survey.
Click on the following links for information on the PHOTO CONTEST and the upcoming OPEN HOUSE!
Please check this website and the Auburn Maine JLUS facebook page for news and updates, the latest information being discussed and to provide feedback on ideas being discussed.
Support Staff
Kat Beaudoin A.I.C.P.
Integrated Planning Solutions
Eric Cousens, Planning Director
City of Auburn, Maine
ecousens@auburnmaine.gov
207.333.6601 ext. 1154