Are YOU up to the challenge?
Become part of a tradition of SERVICE, PRIDE, and DEDICATION. Become part of the Auburn Police Department.
A message from the Chief of Police:
Thank you for your interest in the Auburn Police Department. The APD is dedicated to building trust and enhancing the quality of life in our community through our fundamental core values of Honor, Excellence, Loyalty & Professionalism.
I hope that you will consider exploring a career with our nationally accredited agency.
~Chief Phillip L. Crowell, Jr.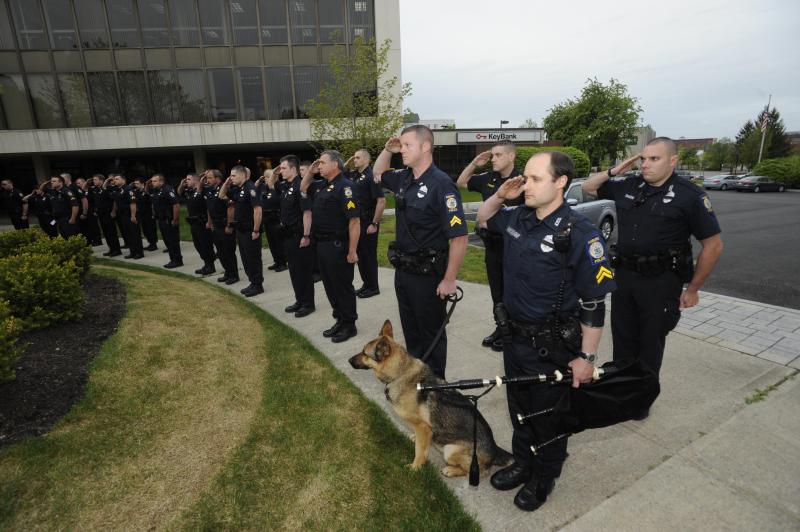 The Auburn Police Department is a progressive and professional organization with 54 sworn officers and 8 civilian employees. The Department has a proud tradition of honor, excellence, loyalty and professionalism. The Auburn Police Department is one of a handful of departments in Maine to receive national law enforcement accreditation.
All applicants must be high school graduates or have passed a high school equivalency exam. Applicants must be 21 years of age, or 20 with at least 60 college credits.
Graduates of the Maine Criminal Justice Academy (MCJA), certified Police Officers and veterans are strongly encouraged to apply.
Applicants must have passed the MCJA physical agility test and ALERT exam (with a minimum score of 45) and possess a valid driver's license. Candidates will be required to pass oral board, polygraph, medical, substance and psychological testing and an extensive background check.
Police Officers must be able to work all shifts including nights, weekends, and holidays.
Starting salary is $18.92/hour (increase to $20.43/hour upon completion of probationary period), with a competitive fringe benefit package. The City of Auburn has lateral entry and will recognize up to six years of full-time law enforcement experience in municipal, county, state or federal law enforcement agency.
Application packets may be obtained by clicking HERE or by visiting the Human Resources Department at 60 Court Street, Auburn, Maine 04210; by calling (207) 333-6601 ext 1416; by e-mailing cmumau@auburnmaine.gov.
The City of Auburn is an Equal Opportunity Employer.
Our hiring process will be opening SOON!
Have you ever wondered if YOU have what it takes to be a police officer? Join us for:
OPEN PHYSICAL AGILITY TESTING
Saturday, October 1 at 3:00pm | Edward Little High School Track
Monday, October 3 at 9:00am | Bates College Field House (Merrill Indoor Gymnasium)
There is no charge to participate. Dress accordingly and bring water. Test consists of: one minute maximum push-up test; one minute sit-up test; and 1.5 mile run. *This is not a substitute for the Maine Criminal Justice Academy's Physical Agility Test.