Meet Our K-9 Officers
APD K-9
Inka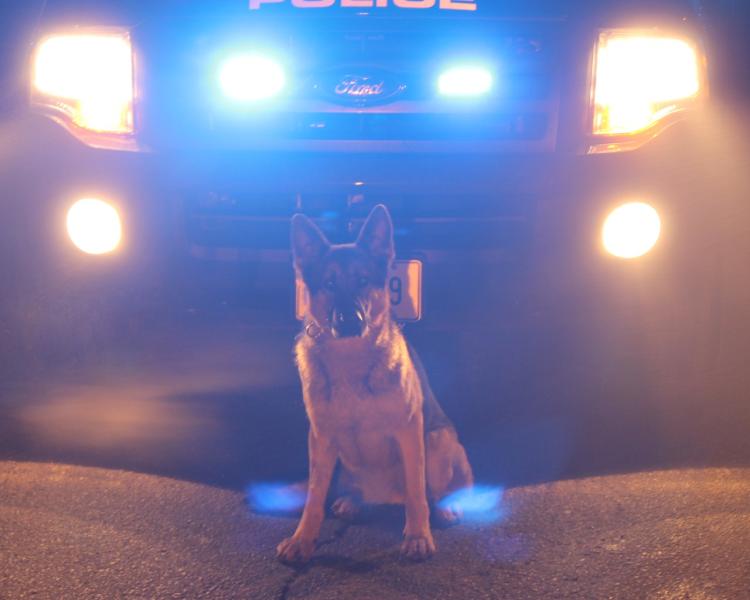 Born: 05/09/2005
Handler:
Corporal
Scott Corey
Color:
Black & tan
Favorite toy:
Bouncy rubber ball
Special skill:
Finding drugs that the bad guys try to hide
K-9 Officer Inka was born in New York on May 9, 2005. She is a pure-bred female German Shepherd that was trained in the dog training art of Schuetzen. Inka began her tour of duty on March 20, 2007 at the Maine Criminal Justice Academy (MCJA) K-9 Patrol School.
She and her handler, Corporal Scott Corey, attended this 12-week school that taught Inka how to track both good and bad guys; conduct building searches; perform article/evidence searches; general obedience; going over and under obstacles; and apprehension of suspects/aggression work.
In the fall of 2008, Inka attended the 8-week K-9 Narcotics Detection School also held at the MCJA. This school taught Inka how to locate marijuana, crack, cocaine, hashish, heroin and methamphetamines. This is where she learned what to do when she locates 'hits on' these odors.
Corporal Corey says, "Through those 20 weeks of training, I learned how to teach Inka to do all of these tasks and also care for her. We were taught K9 first aid and general dog maintenance and grooming. We were taught how to use the dogs in a tactically sound manner. We also were taught basic navigation so that we do not get lost in the woods when the dog is on a track. We were tested both mentally and physically with written tests and very long hikes/tracks through the woods. We swam next to our dogs in water that was over our heads - with ice floating beside us - in April. We also carried our dogs across a stream on our shoulders. We learned to bond with our dogs and 'read' them while they are working. Since they cannot speak, we had to learn to watch for the most subtle of clues when the dog is working and trying to tell us something."
Inka's favorite pastime is playing with her bouncy rubber ball. It is her favorite toy and also her reward when she does a good job finding drugs or bad guys.
Inka and Corporal Corey had about 70 calls for service in 2011. Inka's favorite calls involved finding drugs that people had tried to hide from her. There were even several calls where people thought that they could hide drugs in their undergarments. Inka is a very friendly dog and will check people out without biting at them. This makes her very versatile while conducting searches for illegal narcotics. Inka also located several people that ran off after motor vehicle burglaries, domestic violence assaults and crashing their vehicles while drunk. All of these people believed that they were going to get away with their crime - at least until they saw Inka running after them.
*Photo by Corporal Scott Corey
K-9
Dutch

Born: 03/09/2009
Handler:
Corporal
Kris Bouchard
Color:
Black & tan
Favorite toy:
Anything he can retrieve
Favorite games: H
ide & Seek,
Fetch
K-9 Officer Dutch was born in Canada on March 9, 2009. He is a black and tan pure-bred German Shepherd.
Dutch was purchased after a donated dog, Gunner, failed to have the proper traits needed to be a police K-9. His handler, Corporal Kristopher Bouchard was 2 weeks into a 12 week Patrol School when it became apparent that Gunner would not make the cut. Dutch was purchased as a replacement using drug forfeiture money in March of 2010. Gunner found a home in the Skowhegan area with a civilian. Even though there was only 9 weeks left when Dutch began the training, he passed with flying colors. In fact, during a rugged terrain tracking exercise at Frye Mountain in Montville, Dutch was the only K-9 to find the person he was looking for after a track that was over a mile long, up the mountain. During patrol training, K-9s are trained in obedience, tracking, evidence searches, building searches, aggression and officer protection.
In September of 2010, Corporal Bouchard and Dutch attended Narcotics Detection School which was an 8 week school at the Maine Criminal Justice Academy. During this school, Dutch was trained to detect marijuana, hash, cocaine, crack cocaine, methamphetamine and heroin. The training took place in various locations that included searches in buildings, on boats, in vehicles and at airports. Corporal Bouchard and Dutch successfully completed this training and graduated in November of 2010.
On the streets, this K-9 team is utilized by the Auburn PD as well as surrounding departments. They are used on a regular basis for tracking suspects and searching for drugs in vehicles, residences, correctional facilities and schools. The team has also conducted demonstrations for many community organizations.
Dutch is a social dog who loves attention and enjoys work and play equally. He resides with Corporal Bouchard and his family in Auburn.