Park Watch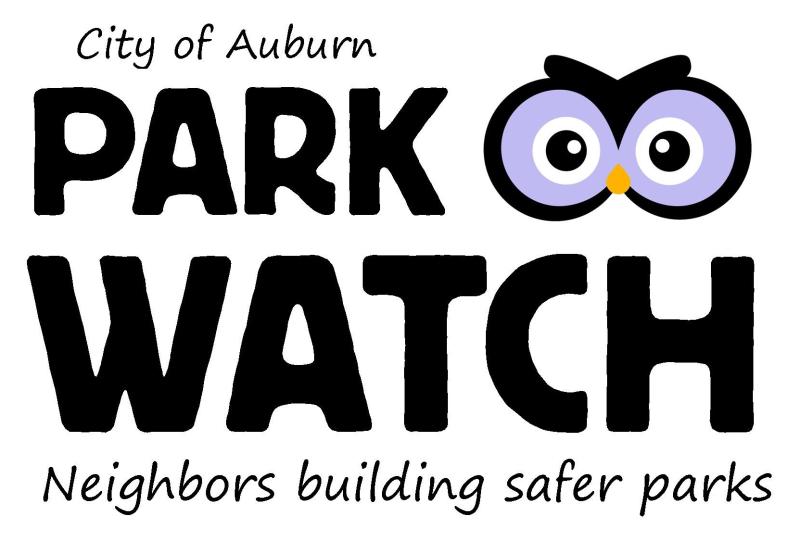 The City of Auburn's Park Watch program (similar to the Neighborhood Watch model) encourages the reporting of crime, trash, broken/unsafe equipment & other maintenance issues to the appropriate city departments.
A collaboration of the Auburn Public Services Department and the Auburn Police Department, Park Watch members will be recruited at community events, via the city website and by canvassing neighborhoods surrounding our city parks to encourage participation.
Expected outcomes of the Park Watch Program:
Reduction in negative incidents
Reduction in repair & restoration costs for facilities & equipment
Increased safety for children
Increased community pride
The commitment:
We only ask that participants be alert, aware, observant & caring
How it works:
Park Watch members will...
Report fires, medical emergencies or crimes in progress by calling 9-1-1
Report suspicious activity on the L-A 9-1-1 non-emergency line or by using the APD's CORS (Citizen Online Reporting System)
Report maintenance issues (broken, unsafe equipment) to the Public Services Department
Use the tools available on the City of Auburn website ("report it" button on the home page)
Potential for growth:
We hope to develop a "Junior Park Watch" for kids to encourage pride in and accountability for our city parks.
How to enroll:
To become a member of the Auburn Park Watch program, please complete the enrollment form and return it Liz Allen at the Auburn Police Department. You can drop it off or mail it to 60 Court Street; scan and e-mail it to lallen@auburnmaine.gov; or fax it to 207.333.3855.
"Park Watch will help keep our parks safe and enjoyable for everyone."
~Ravi Sharma, Former Auburn Parks & Rec Director
"In our efforts to reduce crime, one of our best tools is a good neighbor."
~Phil Crowell, Auburn Police Chief