---
On September 22, 2017, the City of Auburn, Maine Public Services Department was awarded the prestigious American Public Works Association (APWA) Accreditation designation. The APWA Accreditation program recognizes public works agencies that go beyond the requirements of the nationally-established management practices in the public works industry, as contained in the APWA Public Works Management Practices Manual.
APS officially received their Accreditation award from APWA Region 1 Director Gary Losier, who traveled to Auburn from New Brunswick, Canada, during the City Council meeting on December 18 at City Hall.
"Your staff has gone through an amazing process here," said Losier. "You should be proud of your people. They are so good that two of their standards are now set as examples (as models) for other communities to use in accreditation. This is an impressive accomplishment."
Recognition of the Accreditation of Auburn's Public Services Department indicates the department met all applicable Accreditation documentation and practices. "The awarding of APWA Accreditation shows this agency has dedicated itself to concepts of improvement and in-depth self-assessment of department policies, procedures and practices. The heroes of this prestigious APWA award are the public works staff whose mission is to provide public works services and programs that contribute to making Auburn such a great organization," said Tracy Quintana, APWA Accreditation Manager.
The Auburn Public Services Department becomes the 130th agency in North America to be awarded Accreditation and the 1st in the State of Maine. Auburn Public Services initially applied for Accreditation in July of 2014.
For the Auburn review, a team of public works professionals from Richmond, VA, Lakeland, FL, Westerville, OH and Kansas City, MO completed a thorough evaluation of operations during their September 2017 site visit.
"I'm really proud of our team," said APS Director Dan Goyette. "This achievement shows that we are the best of the best. This is something for the entire community to celebrate."
For more information about the City of Auburn Public Services Department's accreditation status, contact Accreditation Manager Liz Allen - lallen@auburnmaine.gov. For more information about APWA Accreditation, please contact APWA Accreditation Manager, Tracy Quintana at tquintana@apwa.net.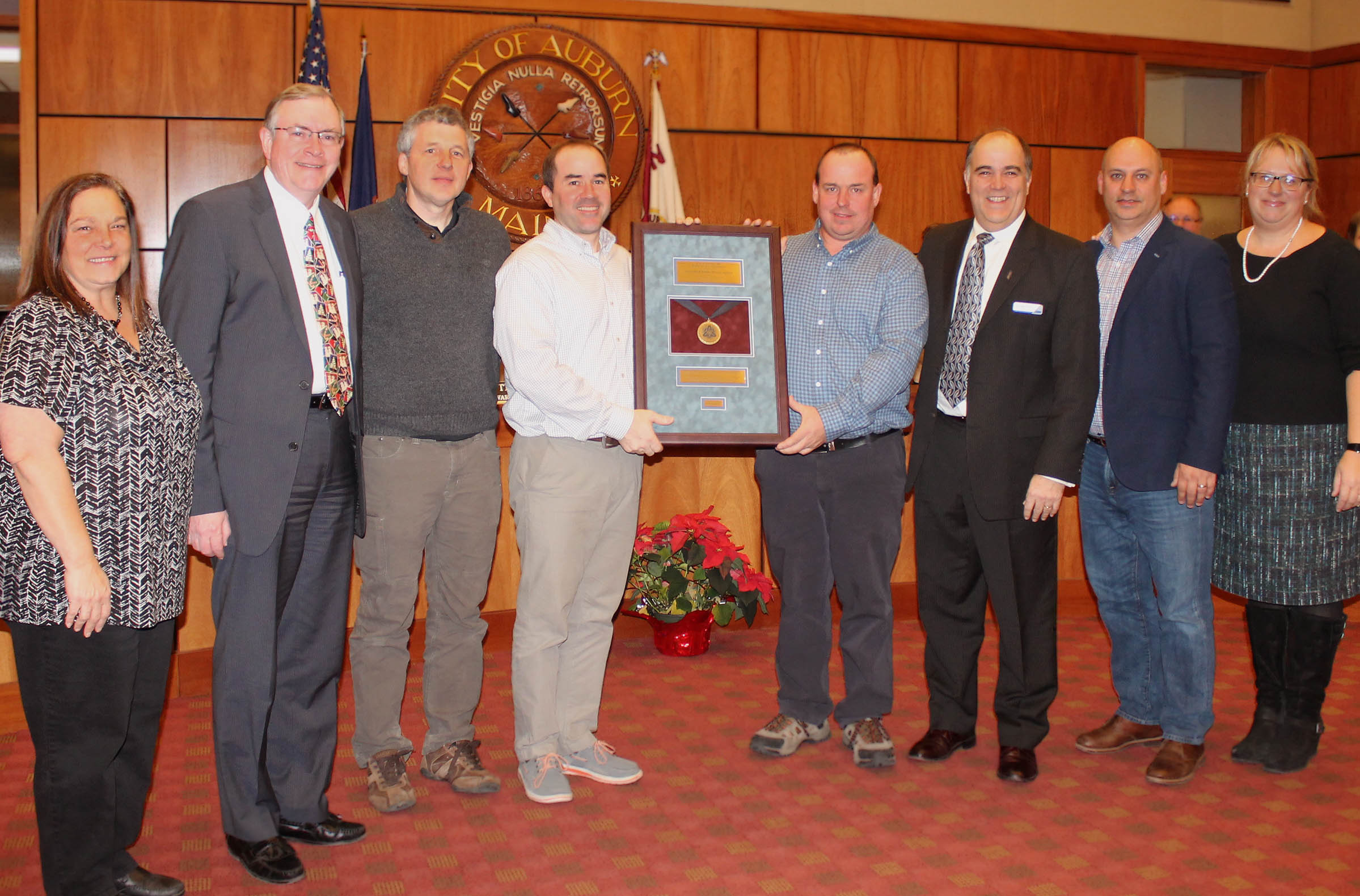 Pictured left to right: APS Office Manager Geri Crane, Auburn City Manager Peter Crichton, APS Operations Manager Gary Wadsworth, APS Director Dan Goyette, APS Deputy Director Scott Holland, APWA Region 1 Director Gary Losier, Auburn Mayor Jason Levesque and Auburn Communications & Compliance Manager Liz Allen.