---
In preparation for Auburn's sesquicentennial, the Mayor's office in Auburn City Hall is undergoing a makeover. Since taking office in December, Mayor Jason Levesque has given direction and helped facilitate a makeover of his workspace on the second floor that will honor Auburn's past, and celebrate its future through collaboration with private business and community groups.
Several historically significant pieces arrived this past Friday, when members of the Androscoggin Historical Society paid the Mayor a visit with some very special items in hand.
Local historians David Chittim, Board Member and Douglas Hodgkin, the Society's Treasurer, hand-selected and delivered a number of fascinating historic items that will be on-loan to the Mayor and displayed proudly in his office.
"I am honored to display these important pieces of Auburn's history," said Levesque. "As we ramp up our efforts to celebrate Auburn's 150th year as a city, I am grateful for our partnership with the Androscoggin Historical Society and for their wealth of knowledge and artifacts."
The historic items, which include framed antique postcards, old maps, artifacts from Auburn's shoe manufacturing era, and others, will hold a place of pride in Auburn Hall and are sure to spark many an interesting conversation as Auburn's new mayor remembers the past and embraces the future.
Residents are welcome and encouraged to visit the Androscoggin Historical Society, which is located at 2 Turner Street (on the third floor of the County Building). The Society is open Wednesdays and Thursdays from 1:00 to 4:30PM, and Fridays from 1:00 to 4:00PM.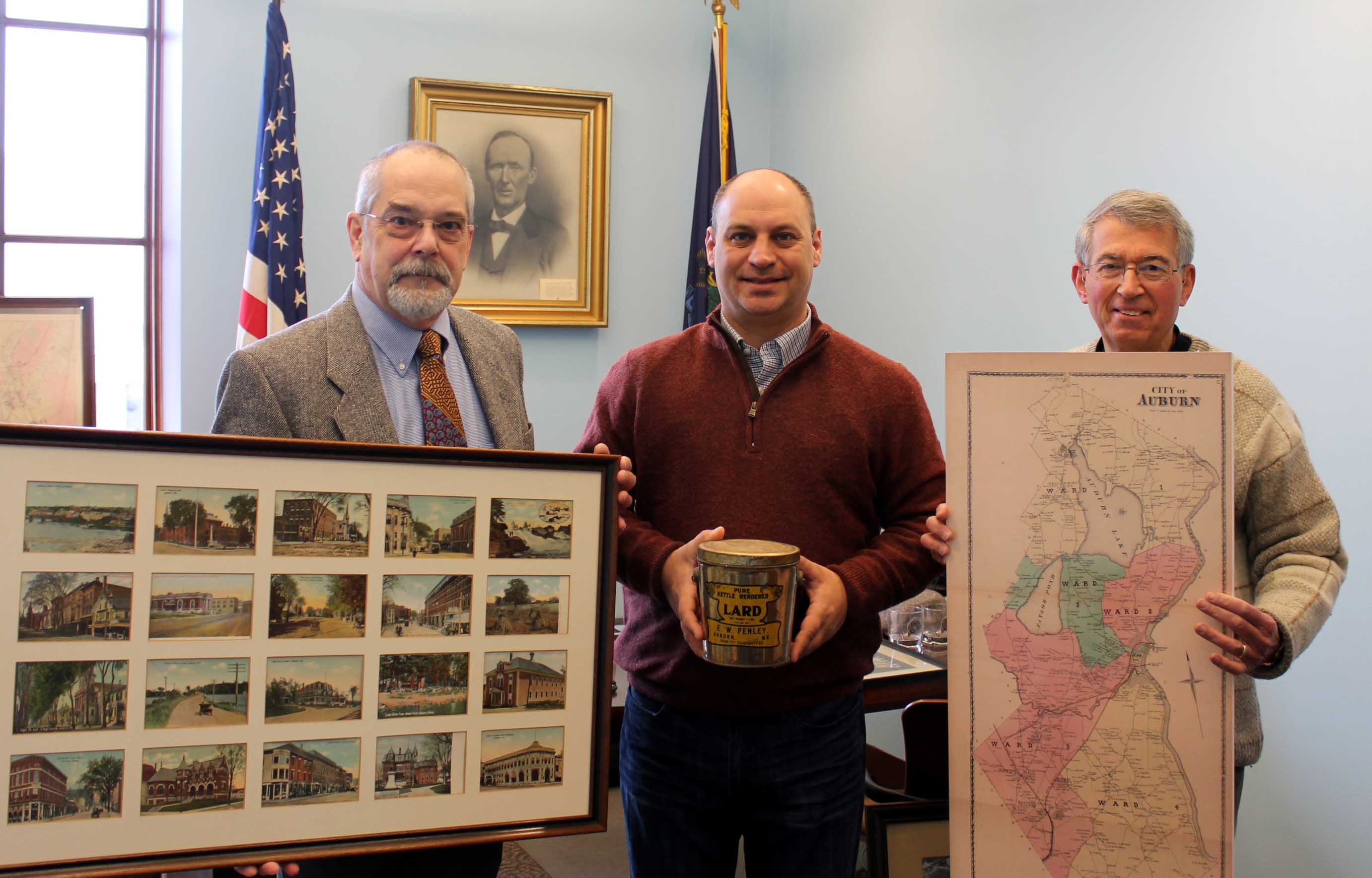 David Chittim (L), Mayor Jason Levesque & Douglas Hodgkin proudly present items that will be on loan from the Androscoggin Historical Society and displayed in the Mayor's office at Auburn City Hall